0

Comments
Published by B. Marcks on Wednesday, August 01, 2007 at 4:08 PM.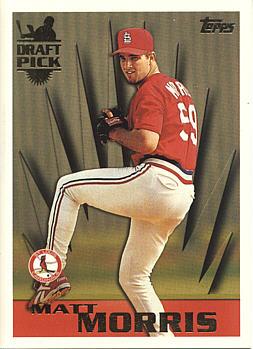 The last few days have seen several big name deals in both Major League Baseball and The Association. Mark Texarcana to the Braves. Gagne to the BoSox. The Big Ticket heading to the Celtics. Even, to a lesser extent, a deal that sent Wilson Betemit to the Yankees. For better or worse these deals are what's being talked about. They make sense to a certain extent for every team involved. That is, all but one deal.
The Pirates have been having yet another rough season. They've been God-awful since the All-Star Break, and now they've added Matt Morris to their starting rotation. The thirty-three year old right hander, who has gone 7-7 this season with an ERA of 4.35 has just become the highest paid Pirate of all time. Let me repeat that: Matt Morris is now the highest paid player the Pirates have ever had. Simply stunning.
Why was this team, 2-14 since the break, out there looking to add pieces like this? What possessed Dave Littlefield to look at that rotation and think "You know what we need? An aging, sub-par starter who we can give a whole lot of cash to." So Dave went to the phone, he called around, and he found Matt Morris, pitching poorly as of late, but in the second year of a three-year $27 Million deal. A match made in heaven, really.
Maybe it was that walk-out protest that fired up the front office. Maybe they were sick of being chastised for not spending any money. So they went out, and they got somebody they can spend $10 Million on next season, when their payroll will likely be in the $50 Million range. Pirates fans can no longer complain that their team isn't willing to spend any cash, I just have the feeling this isn't quite what they wanted.